There are the obvious food + beverage capitals of the world (New York, Hong Kong, Paris, Sydney, etc.) and then there are the pleasant surprises. Burgeoning beverage capitals in smaller, unexpected locales, growing right alongside an influx of foodies from all over, though still steeped in a long, local history. Case in point: our very own Western North Carolina! WNC's Appalachian and moonshine roots have fueled a craft beer and wine revolution that's attracting attention (and visitors) from all over the country. Could over 100 restaurants and 64 microbreweries in Asheville alone have something to do with that? 
From James Beard award-winning restaurants to farm-to-table local favorites, if you're planning to host friends and family soon, looking for Date Night or Anniversary ideas, or just hoping to add NC's must-visit wineries and breweries (even gourmet food trucks!) to your own list, here's where we'd start. Cheers!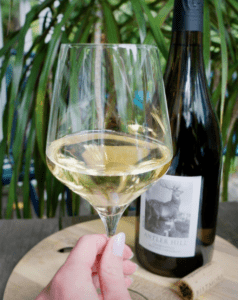 Biltmore Estate Winery
Distance from Avalon: 32 miles
"Founded on the love of the land and a passion for entertaining, the Vanderbilt legacy lives on in shades of red, white, and rosé."
Located in the heart of the Biltmore Estate's Antler Hill Village – a foodie's hub with multiple culinary options – the Biltmore Winery's indoor/outdoor wine bar offers high-end, award-winning wines and vintages handcrafted locally, as well as a delicious selection of charcuterie and local truffles. What's more, you can make a day or date of it by adding a couples' horseback riding session or learning about the winery's history, beginning with William Cecil – George Vanderbilt's grandson – who helped plant the very first vines. Find your perfect pairings with restaurants like Cedric's Tavern (delicious pub fare), the Village Social (inspired regional dishes), the Smokehouse Food Truck, and the Bistro (European favorites).  
Book your speciality wine experience now.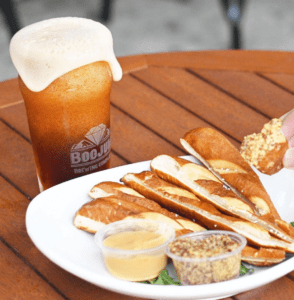 Boojum Brewery Taproom
Distance from Avalon: 6 miles
Voted the best Haywood County brewery five years in a row, BBT invites you to enjoy seasonal pub fare plus 16 taps of fresh, delicious, and always rotating beer, as well as wine and craft cocktails. When the sun goes down, check out Gem Bar, a speakeasy – and our favorite surprise – located just below the restaurant.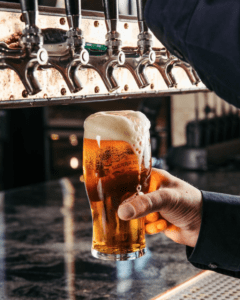 Distance from Avalon: 38 miles
"100% family owned, operated, and argued over," Sierra Nevada Brewing Co. is ground zero for some of the best craft beers and IPAs around, plus a long list of tasty lagers, stouts, ales, and bar bites. From the traditional to highly adventurous flavor profiles, the high-quality ingredients make each distinct and welcome endless exploration of complex aromas brewed with purpose. Wildly popular nationwide, you'll also have no issue finding them in a store near (and far from) you. 
To dive right in, book a brewery tour then finish it off with a meal at the wildly popular Taproom, a restaurant with its own loyal fan base. Enjoy incredibly delicious small plates designed to showcase the finest, seasonal offerings of local farmers and food artisans, from produce to poultry and plenty of meats and cheeses.   
100 Sierra Nevada Way, Mills River, NC 28759
1 (828) 708-6176
New Belgium Brewery (Kid- and dog-friendly) 
Distance from Avalon: 28 miles
Besides a pint, who's up for a plate of the best of the best food trucks? 
Located along the pristine banks of the French Broad River, New Belgium Brewery welcomes you to stop in for just that – plus beer, music, and good times. Host to a wide variety of gourmet food trucks like Lobster Dogs (specializing in the Carolinas' best lobster rolls and stuffed avocados) and Cecilia's Kitchen (southern fare cooked with heart) and so much more, New Belgium's the stop for everything from gourmet grilled cheeses to Creole and Southern soul food. It's a foodies' delight around here. But to stay on topic, craft your perfect beer experience with a behind-the-scenes tour to see how these experts make it all happen from grass to glass.  
21 Craven Street
Asheville, North Carolina 28806  
Elevated Mountain Distilling Company
Distance from Avalon: 10 miles
Located in Maggie Valley, "Where America's drive meets America's most visited National Park," Elevated Mountain Distilling Company crafts premium small-batch whiskeys and spirits rooted in the long-time heritage of the area. A believer that the best water makes the best spirits, Elevated's raw distilling water flows from the Blue Ridge Parkway's Waterrock Knob, a source of the most pure and delicious fast-moving water you could for. Give them a visit to taste the difference yourself! Call or e-mail info@elevatedmountain.com to book a tour. 
3732 Soco Road, Maggie Valley, NC 28751
828-944-0766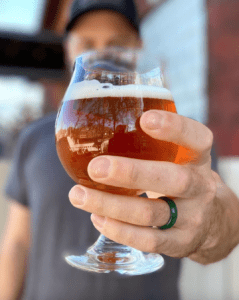 Frog Level Brewing Company (Great outdoor space + dog-friendly)
Distance from Avalon: 6 miles
Located in our very own Downtown Waynesville and right on the creek, local favorite Frog Level Brewing Company serves 21 taps within a lively indoor/outdoor beer garden perfect for music shows and gatherings from the Spring to the Fall. And if you're familiar with 7 Clans Brewing – the sister brand of Frog Level Brewing – you can check out its production facility and test kitchen onsite when you book a tour. Bring your pets along (voted 10/10 for dog watching) and enjoy something delicious from its menu of rotating weekly specials, too. 
56 Commerce Street, Waynesville, NC 28786
info@froglevelbrewing.com + 828-454-5664
Saint Paul Mountain Farms
Distance from Avalon: 46 miles
Located in the Blue Ridge Mountains of Henderson County, Saint Paul Mountain Farms boasts a working vineyard and orchard responsible for the fruit of its award-winning wines, ciders, and spirits. Enjoy food trucks on the weekends (or pack your own picnic) and even bring along your four-legged friends (on a leash). The Farms offer three tasting rooms and events like orchard hikes, wine and yoga, and brunch and mimosas. And besides a delicious brunch, their Commercial Kitchen at Flat Rock hosts wine and food pairing events plus cooking demonstrations for you and all the foodies in your life.
Check out the complete calendar of events across its winery and cidery. 
588 Chestnut Gap Rd, Hendersonville NC, 28792
Tel: 828-685-4002
info@saintpaulmountainvineyards.com
Other breweries and craft beer favorites include:
Green Man Brewery
Distance from Avalon: 30 miles
One of North Carolina's best breweries since the 90s, visit Green Man for its iconic, English-style ales lauded across the beer scene. 
Wicked Weed Brewing: Funkatorium 
Distance from Avalon: 30 miles
Home to a biergarten and bottle shop, the Funkatorium is the East Coast's first taproom dedicated to sour beer. Pair 12+ varieties on draught with creative, mouthwatering menu options.
Burial Beer Co.
Distance from Avalon: 30 miles
With four Burial taproom locations to choose from – two in Asheville plus one in Raleigh and Charlotte – foodies and beer connoisseurs alike can tap the best of the craft beer scene. And in 2020, Burial added wine, cider, and vermouth to its portfolio of craft beverages through a new brand called VISUALS. Find its products year-round in the AVL and Raleigh taprooms, plus Forestry Camp. 
What do you think? Did we miss any of your favorites? Or are you more excited than ever to explore some of WNC's best wineries and breweries? 
We hope you or someone you know might be interested in exploring luxury mountain living near Asheville, as well. If so, contact us to schedule an immersive tour of Avalon and all that it has to offer.