Discover Waynesville, NC
Waynesville, known as the "Gateway to the Smokies," is home to nearly the century-old tradition of summer evening street dancing.
Since the 1930's Main Street in front of the Historic Haywood County Courthouse closed on Friday nights and covered in cornmeal for the shuffling movement of feet. All are welcome! Like a Norman Rockwell painting of Main Street USA, Waynesville encompasses everything you'd imagine a small NC mountain town to be, where everyone is friendly and southern hospitality is championed.
The arts are celebrated in this part of the Blue Ridge. Waynesville, international festival, Folkmoot USA, host the world's cultural heritage through folk music and dance. Artist and performers from around the world demonstrate their cultural heritage through colorful costumes authentic dance and music.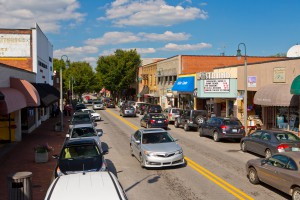 Discover the Museum of North Carolina's Handcrafts in the historic Shelton House showcasing handmade crafts, art and furniture created by local artisans. Catch a show at the Haywood Arts Regional Theater where local and regional actors play out the hottest plays and musicians-artist from around the world perform.
On the "Home Grown" local music scene there's  world-class Bluegrass band, Balsam Range, the 2014 International Bluegrass Music Awards Entertainer and Vocal Group of the year. And just down the road a piece is the 2015 "America's Got Talent" finalist Mountain Faith Band.
Craft Beer is flowing in Waynesville and thirsty patrons are loving it at the Boojum Brewery, Tipping Point Tavern, Frog Level Brewing Company and BearWaters Brewing. All creating tasty brews. The shops on Main Street are just awesome to shop and browse, displaying everything from antiques to fashionable mountain wear. The most famous of the stores is Mast General Store, celebrating and honoring the old fashioned general stores of times long past squeaky old wooden floor included. Coffee shops give opportunity to relax. For the kids mostly the ice cream parlor. Everyone's happy!
For your fitness workout and year round swimming take advantage of Haywood Regional Health and Fitness  Center featuring 54,000 square foot building that features a six lane indoor heated pool and a warm therapy pool, 3,000 square feet of cardiovascular equipment, a gymnasium with a climbing wall, two racquetball courts, group fitness classes,  private training studio as well as personal training, in addition there are steam and sauna rooms for male and females. The town of Waynesville has a 64,000 square foot world-class recreation and fitness center, Waynesville Recreation Center,  that features a water play park, lap pool, 1/10 mile rubber walking track, two basketball courts, weight room, two racquetball courts and a game room.
This charming mountain town provides Avalon residents convenient and easy access to all daily provisions, health care and lifestyle necessities.
Folkmoot USA International Dance & Music Festival