The Best Climate In The Carolina's
For centuries people have headed for the mountains of North Carolina to take advantage of our mild climate and cool summers. During the summer season, the temperature here at Avalon can be as much as 10 degrees cooler than the Piedmont of North Carolina or the low country of South Carolina.
The mountains of Western North Carolina  shield us from the most extreme weather that comes in from the mid-west and the south.  The southernmost section of the Blue Ridge Mountains is a temperate rain forest where the escarpment rises like a blue wall – literally slowing and stopping weather fronts in their tracks.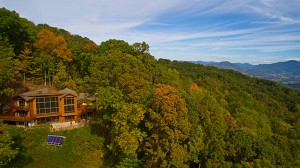 Waynesville just outside the gates of Avalon boasts an annual average high of 65.3o F  and average annual low of 40.1o F for an average temperature of 52.7o F . Waynesville gets  47.72 inches in rainfall each year but only  12 inches of snow each winter.  The hottest month is July when the average high hits 82o F degrees and the coldest month is January with nightly lows averaging 22o F. February is the wettest month, normally getting  4.49 inches of rain.
Climate Waynesville – North Carolina