Discover Cherokee, NC
Cherokee, once upon a time all of Western North Carolina was Cherokee Nation.
Today the Eastern Band of Cherokee live and work in the Qualla Boundary next to Great Smoky Mountains National Park. The Cherokee are a proud people, who celebrate their culture and still teach their youth the Cherokee way and language. Step back in time visiting the Oconaluftee Indian Village, a living museum that honors and celebrates the old ways of the Cherokee through history, song and dance.
Experience up close how the Cherokee made their jewelry, pots and bowls, blow guns and arrowheads. There's a live action interpretation play that shares the story of the Cherokee's first meeting with the English. For more live action drama be sure to attend Unto These Hills, the Cherokee story since 1950. Cherokee is famous for world-class fly fishing streams and pristine rivers. Fresh mountain water has always been essential to the Cherokee people. For outdoor enthusiast there's plenty to do, whether it's exploring the many hiking trails, canoeing, kayaking or floating the rivers or simply viewing wildlife while camping.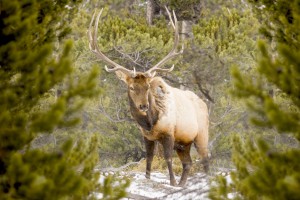 The majestic elk of Western North Carolina call Cherokee home again. Successfully reintroduced after being extinct in Cherokee for over a 150 years.
Today Harrah's Cherokee Casino makes everyone a winner with great restaurants, luxurious accommodations and  class gaming and entertainment.