The Blue Ridge Parkway – Western North Carolina
America's favorite drive! Commissioned by FDR during the Great Depression, The Blue Ridge Parkway was designed as a recreational motor road connecting the Shenandoah National Park in Virginia to Great Smoky Mountains National Park here in Western North Carolina. The Blue Ridge Parkway and Great Smoky Mountain National Park are the most visited places in the National Park Service and are accessed just minutes from Avalon.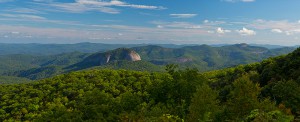 The 469-mile-long Parkway is for leisure driving and is designed to merge with the landscape and follow the natural wonders of the Blue Ridge Mountains. The drive takes you from beautiful valleys to the top of The Blue Ridge Mountains. Once you're on the Parkway you'll discover hiking trails, wildlife, waterfalls, lakes and the best long-range vistas found anywhere. Feel free to explore the unique mountain towns that are found just off the Parkway.
North Carolina Signature Attractions
Experiencing "America's Favorite Drive"
Blue Ridge Parkway Top 50, Asheville